About Me
I am a sixth-year graduate teaching assistant and doctoral candidate for the Mathematics Department at the University of Nebraska-Lincoln (UNL). For more information, please refer to my CV. I was born and raised in Scottsbluff, Nebraska, and I graduated from Scottsbluff High School in 2014. I attended UNL Math Day throughout high school, and it was my senior-year trip to Math Day that inspired me to study math at UNL. I am also fluent in Spanish since my parents are from Peru.
During my 2012 trip to Peru, I got to visit Machu Picchu: the Lost City of the Incas.
Research
My research interest is in mathematical modeling applied towards biology. A lot of my current research involves analyzing mathematical models that describe plant-herbivore interactions. The analysis includes applications of stability theory and investigations of parameter variations. I have also used and/or written up MATLAB programs to assist with the graphical (e.g. nullclines and phase portraits) and numerical (e.g. parameter combinations) analyses of these models. My advisors are Dr. Richard Rebarber and Dr. Brigitte Tenhumberg.
I got to present some of my research at the 2023 Midwest Undergraduate Mathematics Symposium (MUMS) held at Simpson College in Indianola, Iowa.
Slides for AMS Sectional Meeting in Omaha
Teaching & Educational Services
I have held some convening duties for the UNL Math Department. Specifically, I was the associate convener for UNL's restructured MATH 102 (Trigonometry) course during the 2022-2023 academic year, and for the UNL Math Resource Center (MRC) during the 2020-2021 academic year.
I had the opportunity to serve on a search committee for the hiring of an Assistant Professor in Math Education during fall 2022.
I was a thesis mentor to in-service math teachers in UNL's Masters of Arts for Teachers (MAT) program during summer 2022. My key duty was to review the thesis paper for three groups (of three) teachers pursuing their MAT degree in mathematics.
I have helped develop curriculum for the following math courses taught at UNL: MATH 102, MATH 104 (Applied Calculus), MATH 106 (Calculus I), and MATH 435 (Math in the City). Moreover, I have collaborated on the following open education resources (OER) textbooks:
Here is a list of the most recent math courses I have taught (or was a teaching assistant for) at UNL:
MATH 106 (Calculus I) - fall 2023
MATH 805T* (Discrete Math for Math Teachers) - summer 2023 (**)
MATH 102* - spring 2023
MATH 102* - fall 2022
MATH 435 - spring 2022
MATH 102* - spring 2022
MATH 435 - fall 2021
MATH 221 (Differential Equations Recitation) - fall 2021
MATH 810T (Algebra for Algebra Teachers) - summer 2021 (**)
MATH 104* - spring 2021 (**)
MATH 101* (College Algebra) - fall 2020 (**)
MATH 104* - summer 2020 (**)
MATH 101* - spring 2020 (**)
MATH 101* - fall 2019
MATH 107 (Calculus II Recitation) - spring 2019
MATH 106 (Calculus I Recitation) - fall 2018
NOTE: * denotes that I was the instructor of record for that course, and (**) denotes that the course was taught online via Zoom (or had a mixture of in-person and remote learning).
If you are a student of mine in any of the courses listed above, please consult with Canvas for additional course information.
Other
Some of my hobbies outside of mathematics are going on walks, hanging out with friends, playing card games, shooting pool, bowling, dining at restaurants, playing intramural sports, and traveling. I am also a big fan of the Nebraska Cornhuskers (GO BIG RED), and I have gone to nearly all of the home football games played at Memorial Stadium since the 2014 College Football Season.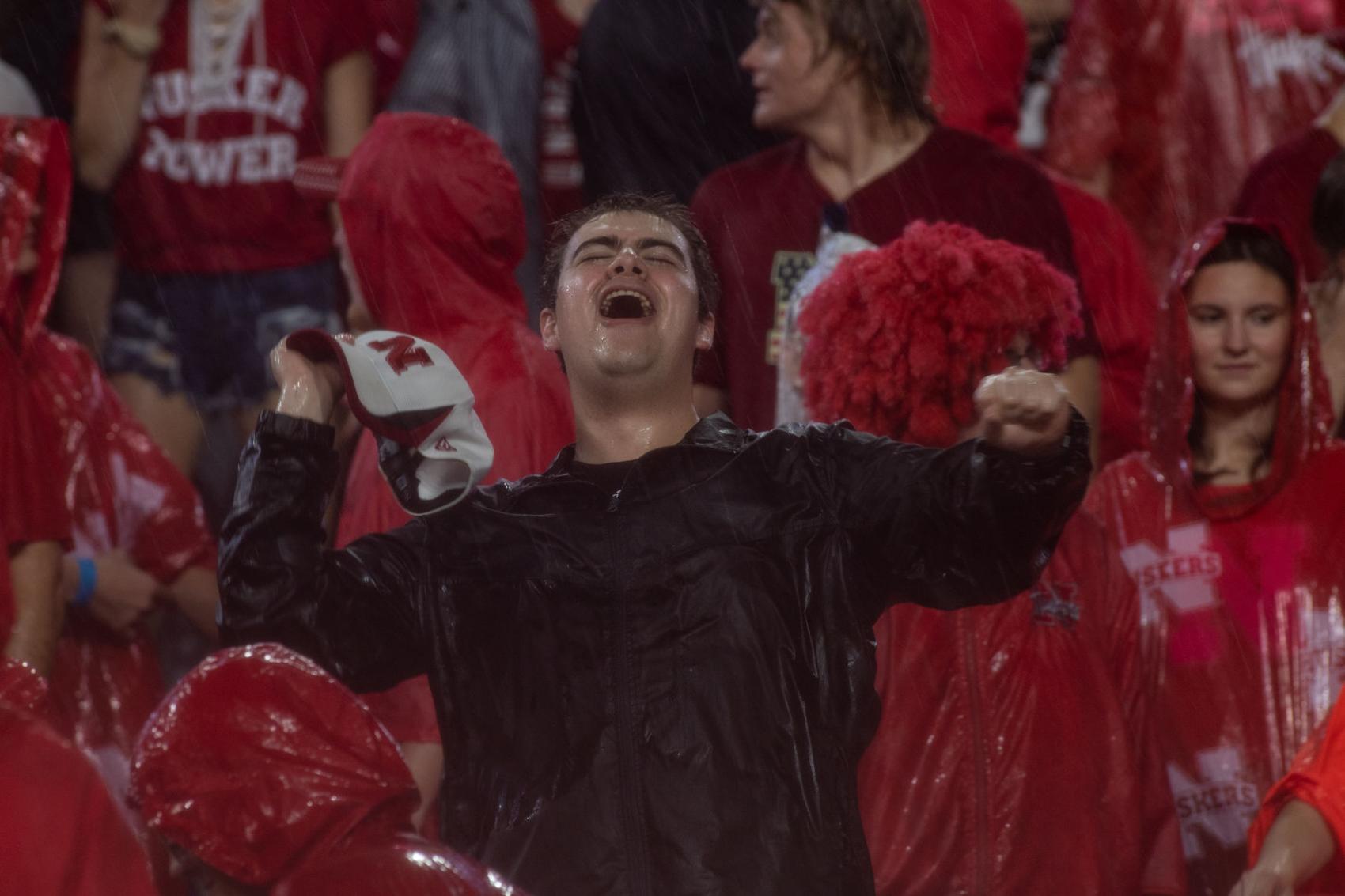 Fun fact: this picture is from the 2018 Nebraska vs. Akron game, which ended up getting cancelled due to stormy weather.